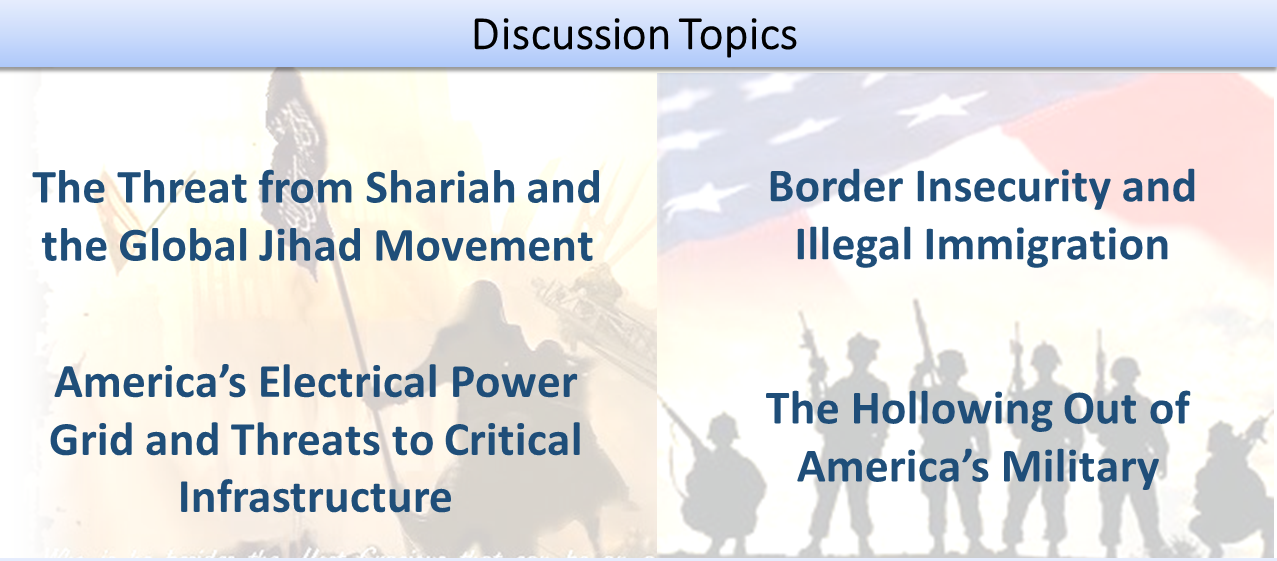 Join policy makers, legislators, law enforcement leaders, and concerned citizen activists for a day of penetrating analysis of national security matters that will help shape the future of SC and our nation as a whole.

Featured Speakers Include:
To follow are the list of confirmed panelists and speakers:
(There are still numerous panelists and speakers who haven't R.S.V.P.'d yet.  We will update this page as new speakers and panelists are added.)

Dr. George H. Baker – Dr. Baker is CEO of Baylor, LLC – a consulting company primarily devoted to preparedness for and protection against major electromagnetic threats to critical infrastructure including nuclear EMP, solar storms, and RF weapons.  While serving as a Director of the Foundation for Resilient Societies, Dr. Baker is a Professor Emeritus at James Madison University, where he directed the JMU Institute for Infrastructure and Information Assurance.  Previously Dr. Baker led the Defense Nuclear Agency's EMP program, directed the Defense Threat Reduction Agency's assessment arm, and served as a member of the Congressional EMP Commission Staff.  He continues to advise the Defense Department on hardening systems to survive EMP effects.  He holds an M.S. in Physics from University of Virginia, and a Ph.D in Engineering Physics from the U.S. Air Force Institute of Technology.
Ambassador John R. Bolton – John R. Bolton is Chairman of the Gatestone Institute. Before serving as the United States Permanent Representative to the United Nations (2005-2006), Ambassador Bolton was Undersecretary of State for Arms Control and International Security (2001-2005). Bolton also served in the administrations of President Ronald Reagan and President George H. W. Bush. His many accomplishments include the rescission of the UN's 1975 "Zionism is racism" resolution, U.S. renunciation of the International Criminal Court and the establishment of the Proliferation Security Initiative. Ambassador Bolton is a Senior Fellow with the American Enterprise Institute and a Fox News contributor.
more info